Business corporate hospitality tennis packages at Wimbledon. Quality service and entertainment assured, with luncheon, fine wines and a seat on the Centre Court.



include("../includes/nav_main.inc"); ?>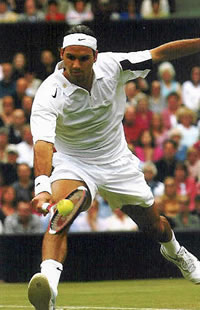 All England Lawn Tennis Championships Wimbledon 2006

Monday 26 June - Sunday 9 July 2006



Wimbledon is the world's premier tennis tournament, and to many it is the greatest sporting event in the world. Wimbledon has a unique atmosphere which transcends the sport, to be a part of it is very special indeed for competitors and spectators alike.



Hospitality Facilities



This year we are offering two top class facilities.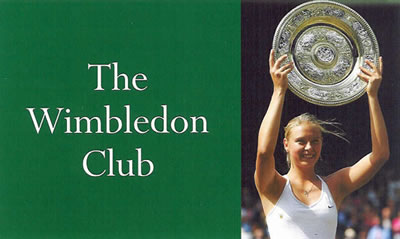 The Wimbledon Club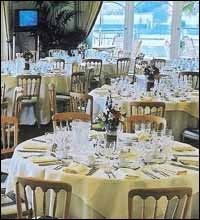 Sportsdays are delighted to be able to offer you the opportunity to enjoy a tremendous day's tennis and hospitality at the exclusive Wimbledon Club. No other hospitality venue offers such a spacious and luxurious environment in which to entertain your VIP guests. The Wimbledon Club is conveniently situated opposite the All England Lawn Tennis Club and main gate in Church Road and is only a short stroll from the world famous Centre Court and No. 1 Court. Bookings can be taken for parties of 2 upwards in this facility.

Since its inception in 1998, the balcony of the Wimbledon Club has proved to be a popular feature with views over the practice courts and up to the scoreboard situated on the outside wall of the Centre Court. The 2001 Championships saw the introduction of the new and exclusive Garden Restaurant with private dining and garden area. The Garden Restaurant is specifically designed to cater for private groups of 40 or more VIP guests.

Your package includes:
Early access to the Wimbledon Club Executive Restaurant. Private tables for four or more VIP guests can be reserved. Private suites are available for parties of fifty or more guests
Coffee and biscuits on arrival
Champagne, Pimms, Bucks Fizz and Canape reception
Sumptuous Four Course Luncheon served with fine wines and liqueurs
Complimentary bar all day (including champagne)
Official souvenir Wimbledon programme and newspapers
Officially approved debenture Centre Court or No. 1 Court ticket
Colour television coverage throughout the day
Reserved car parking (1 per 4 guests) in the Club Car Park adjacent to the Wimbledon Club
Traditional Wimbledon Afternoon Tea with strawberries and cream
Presentation wallet, map and security pass for each guest booked
Experienced event hostesses in attendance to ensure the smooth running of your day
Prices per person (plus VAT) - 2005 please telephone for prices
Date
Centre Court
No 1 Court
Schedule of Play
Monday 26 June
£695
£535

Reigning Men's Singles Champion opens play on Centre Court


Tuesday 27 June
£625
£485

Reigning Ladies' Singles Champion opens play on Centre Court


Wednesday 28 June
£725
£585

No.1 Court & Centre Court share top matches in week 1


Thursday 29 June
£775
£685

No.1 Court & Centre Court share top matches in week 1


Friday 30 June
£995
£885

No.1 Court & Centre Court share top matches in week 1


Saturday 1 July
£795
£785

No.1 Court & Centre Court share top matches in week 1


Monday 3 July
£995
£885

No.1 Court & Centre Court share top matches in week 1


Tuesday 4 July
£795
£685

Ladies' Singles Quarter-finals


Wednesday 5 July
£1395
£985

Men's Singles Quarter-finals


Thursday 6 July
£945
£415

Ladies' Singles Semi-finals
Men's Doubles Semi-finals


Friday 7 July
£1845
N/A

Men's Singles Semi-finals
Ladies' Doubles Semi-finals


Saturday 8 July
£1095
N/A

Ladies' Singles Final
Men's Doubles Final


Sunday 9 July
£2145
N/A

Men's Singles Final
Ladies' Doubles Final


All prices are subject to VAT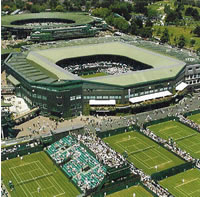 Wimbledon Park Golf Club
Situated only a short walk from Centre Court the Wimbledon Park Golf Club provides a traditional and idyllic base for your day at Wimbledon.

This facility offers the best value for money at the Championships.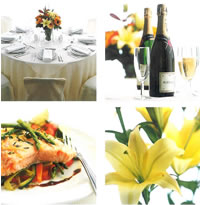 Platinum Package

Centre or No. 1 Court Debenture Ticket
Luxurious hospitality facility
Morning Coffee and biscuits
Champagne reception
Complimentary bar throughout the day
Four-course luncheon
Fine wines & liqueurs
Strawberries and Cream Afternoon Tea
Car park passes (1:2 guests)
Resident pianist
Souvenir programme
Colour TV & Video facilities
Daily Newspapers
Floral decor
Individual guest documentation
VIP hostess service
Date
Centre Court
No 1 Court
Schedule of Play
Monday 26 June
£699
£549

Reigning Men's Singles Champion opens play on Centre Court


Tuesday 27 June
£675
£525

Reigning Ladies' Singles Champion opens play on Centre Court


Wednesday 28 June
£775
£595

No.1 Court & Centre Court share top matches in week 1


Thursday 29 June
£795
£635

No.1 Court & Centre Court share top matches in week 1


Friday 30 June
£995
£745

No.1 Court & Centre Court share top matches in week 1


Saturday 1 July
£895
£695

No.1 Court & Centre Court share top matches in week 1


Monday 3 July
£975
£745

No.1 Court & Centre Court share top matches in week 1


Tuesday 4 July
£795
£599

Ladies' Singles Quarter-finals


Wednesday 5 July
£1495
£995

Men's Singles Quarter-finals


Thursday 6 July
£995
£475

Ladies' Singles Semi-finals
Men's Doubles Semi-finals


Friday 7 July
£1795
N/A

Men's Singles Semi-finals
Ladies' Doubles Semi-finals


Saturday 8 July
£1195
N/A

Ladies' Singles Final
Men's Doubles Final


Sunday 9 July
£1995
N/A

Men's Singles Final
Ladies' Doubles Final


All prices are subject to VAT

Ticket Only Prices
Date
Centre Court
No 1 Court
Schedule of Play
Monday 26 June
£490
£380

Reigning Men's Singles Champion opens play on Centre Court


Tuesday 27 June
£445
£330

Reigning Ladies' Singles Champion opens play on Centre Court


Wednesday 28 June
£545
£430

No.1 Court & Centre Court share top matches in week 1


Thursday 29 June
£595
£460

No.1 Court & Centre Court share top matches in week 1


Friday 30 June
£750
£490

No.1 Court & Centre Court share top matches in week 1


Saturday 1 July
£695
£490

No.1 Court & Centre Court share top matches in week 1


Monday 3 July
£775
£490

No.1 Court & Centre Court share top matches in week 1


Tuesday 4 July
£630
£460

Ladies' Singles Quarter-finals


Wednesday 5 July
£1295
£740

Men's Singles Quarter-finals


Thursday 6 July
£775
£230

Ladies' Singles Semi-finals
Men's Doubles Semi-finals


Friday 7 July
£1545
N/A

Men's Singles Semi-finals
Ladies' Doubles Semi-finals


Saturday 8 July
£925
N/A

Ladies' Singles Final
Men's Doubles Final


Sunday 9 July
£1695
N/A

Men's Singles Final
Ladies' Doubles Final


All prices are subject to VAT

Debenture Tickets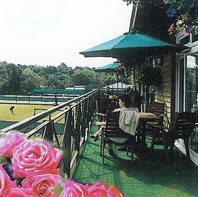 We sell only the best seats on centre and No.1 court, that being Debenture tickets. Debenture tickets are issued in pairs and as such only 'even' numbered bookings are usually accepted by us. When you book please specify which court you would prefer or whether you would like a split between the two.




Please Note:

Prices are subject to fluctuation, please call our booking hotline for the latest price. To make a booking enquiry please click the corresponding image below or call: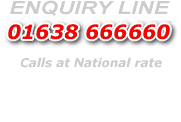 include("../includes/footer.php"); ?>