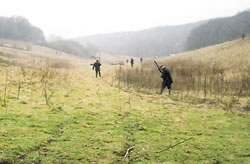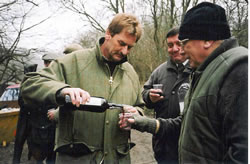 Itinerary (approx)

9.30 am Shooting party arrives at the Wagon and Horses – Stalisfield.
Bacon butties, coffee and sloe gin available.
10.00 am Pegs drawn 10 guns put in pairs
10.30 am First Drive – 5 pegs are set out and each pair take 1 peg with one guest shooting and one loading while the first of 1200 'birds' are fired over the line. Half way through guests swap positions and the loader now shoots and vice versa.
11.00am Nip of Sloe Gin or Cherry Brandy and off to the next drive. Pairs move up two pegs and then two more drives as above before lunch.
13.00 pm Lunch. A traditional shooting lunch with game and chicken pie, sandwiches, sausages, pasties, sausage rolls, soup tea and coffee is provided with a selection of wines, beers, port and spirits.
14.00 pm Guns move up two pegs once again to enjoy the 4 and final drive.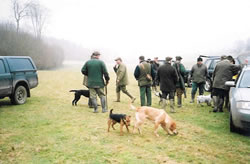 14.30 pm Competition Flush – A final flush of birds is presented over all of the guns which are put into teams with a prize given to the winning team.
15.00 pm Return to The Wagon and Horses for a complimentary drink and prize giving.
15.30 pm Three-course meal is provided with wines and beers.
17.00 pm Depart Stalisfield.

The Cost
£299-00 per person plus vat
(10 persons per booking per day)
Please click the link below or call our booking line to check availability.
To ensure the smooth running of your day Sportsdays have ensured that the most experienced staff on hand to help you and your guests. If your guest haven't shot before this is no problem as we can provide guns and a guide who will provide expert tuition.
Transport to the venue can be provided or your team of guns can be accommodated at Leaveland Court a popular guest house located on the shoot.
How to get there
Stalisfield is situated between Ashford and Faversham along the downs which are part the ancient Pilgrim's Way.
It is only 40 minutes from London just off the M20 and is only a short distance from Ashford allowing easy access to the Eurotunnel for overseas visitors.