The Prix De L'Arc De Triomphe 2005
Sunday 2nd of October 2005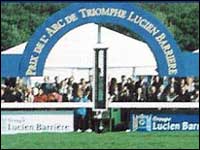 Longchamp Racecourse

The first Sunday in October is an outstanding day of flat reacing featuring the world's top runners, and crowned by the "Prix de l'Arc de Triomphe Lucien Barrière". Effectively the world championship of flat racing, it brings together the winners of the Derby races at Epsom, and in Ireland, Italy and Germany. The season's fastest runners race flat out over a distance of 2400 metres.

The "Prix de l'Arc de Triomphe Lucien Barrière" is a worldwide media event attracting 400 million viewers in 126 countries, and includes 6 hours of broadcast by the BBC. The race's honours board is one of the most fascinating in the racing world. It features legends of the Arc from 1920, when it was first run in celebration of the Allies' victory in the First World War.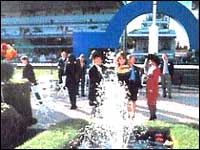 Le Village d'Honneur

Flanking the rails right by the finishing post at Longchamp, the Village d'Honneur is the perfect place to follow the "Prix de l'Arc de Triomphe Lucien Barrière", the race generally considered to be the world championship of thoroughbred racing.

Entertaining In The Village

If you wish to invite guests, you can choose to entertain in either the "clubroom" or your own private room.

This exclusive facility offers personalised arrangements in elegant surroundings. Your guests will be greeted by a bilingual hostess who will remain available all day in the Village.

The Full Hospitality Package Includes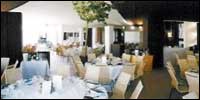 Entry to the Village d'Honneur alongside the finishing line
Reserved tables for lunch
Full luncheon comprising of

Hors d'oeuvre
Main Course
Cheese
Dessert
Wines and Mineral Water

Entry to a VIP Stand overlooking the finishing straight
Private betting facilities with the Village
Open bar all afternoon serving beer, tea, coffee, champagne, fruit juices and dainty cakes
Televisions in the Village and a giant screen next to the track
Floral Decor
Official race Programme
Printed Invitations for each guest
Car parking spaces next to the Village entrance
Bilingual Hostesses
Itinerary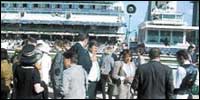 from 12 o'clock - Guests arrive and are welcomed by hostesses and shown in to the Village
12.30 - Full luncheon served at your reserved table
13.30 - Presentaion of the racing programme & opening of the private betting booths
13.55 - First race
14.25 - Second race
15.00 - Third race
15.35 - Fourth race
16.10 - Fifth race
16.45 - Sixth race
17.30 - "Prix de l'Arc de Triomphe Lucien Barrière" (Seventh race)
18.15 - Eighth race
18.30 - Open bar closes
Option 1 - Luncheon In A Private Room (min. 30 guests) - P.O.A.
Option 2 - Luncheon In The Clubroom (min. 4 guests) - P.O.A.
The Platinum Package Includes:
Admission to Longchamp Racecourse
VIP admission to your restaurant facility
Morning Coffee & Biscuits
Champagne Reception
Complimentary Bar
Superb four-course luncheon
Wines & Mineral Waters with luncheon
Afternoon Tea & Coffee with petits fours
Entry to VIP stand
Bilingual hostess service
Private Betting Facility
Individual Guest Documentation
Racecard
Floral Décor
Colour TV Monitors in facility
PRICE PER PERSON (No VAT)
Gladiateur
Brasserie
Village
D'Honneur
Panoramique
Restaurant
P.O.A.
P.O.A.
P.O.A.