include("../includes/nav_main.inc"); ?>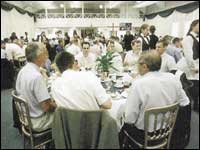 Sobers Hall Restaurant

This excellent restaurant marquee facility is situated in the new Radcliffe Road Development and comes packaged with re-served seats in the middle tier of the Radcliffe Road stand. An ideal location to entertain your guests at Trent Bridge.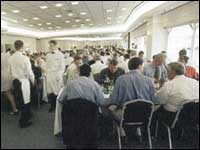 Derek Randall Suite - Viewing Restaurant

Another of Trent Bridge's highly acclaimed suites is the Derek Randall Banqueting suite. The suite can accommodate up to 230 people seated at tables of 10 or 12 with bars at either end to guarantee a fast and efficient service. While the balcony provides easy access to seats allocated in the lower tier of the Hound Road stand as part of the package. Booking from 2 and upwards.



Private Viewing Boxes

Situated within the highly acclaimed Radcliffe Road Cricket Centre are sixteen 12 seater hospitality suites and four 24 seater boxes. These offer an excellent view out over the beautiful test match ground from a prime location, with the historic Pavilion as the backdrop.

The boxes offer their own dining, bar and television facilities. Each box has it's own private balcony.

Hospitality Package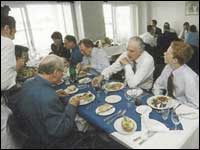 Luxurious private viewing box
Viewing balcony with seating
Morning coffee and biscuits on arrival
Champagne reception
Complimentary bar (excluding champagne)
Four course dinner
Fine wines and liqueurs
Afternoon tea
Colour TV monitors
Souvenir programme
Daily scorecard
Floral Decor
Car parking
Souvenir gift
Selection of daily newspapers
Individual guest documentation
VIP hostess service
Please note: These private boxes sell out very quickly so we recommend that you place your booking as soon as possible to avoid disappointment.

For details of all matches, dates and facility availability.........................
e-mail: hospitality@sportsdays.co.uk or click and fill out our on-line enquiry form.
If you would like to speak to someone please call our Enquiry Line between 11-00am and 5-00pm Mon - Fri.
Click here to Sign up to our newsletter to join our newsletter to keep up to date of all packages and special offers.
To make a booking enquiry please click on the corresponding image below or call: