include("../includes/nav_main.inc"); ?>



INTERNATIONAL CRICKET NatWest ODI Series - nPower Test

Sportdays are proud to offer official hospitality within the Historic ground of Lord's with unrivalled facilities providing the perfect arena for entertaining guests.With the choice of Debenture or Mound seating we can guarantee you and your guests a glorious day of first class cricket and superb hospitality.
Hospitality Facilities

Grand Stand Restaurant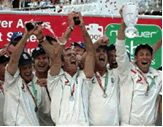 For those passionate about cricket the Grand Stand Restaurant allows guests to experience the very highest level of hospitality whilst being just a few seconds walk from your reserved seat. Private tables for ten guests with a few smaller tables available for groups of four.
Nursery Pavilion

The Nursery Pavilion, an exclusive facility within the grounds of Lord's is just a short walk from the Grand Stand, making it an ideal location for entertaining clients. Private tables for parties of 8 or more or sectioned off areas are available along with a reserved match seat.

Your VIP hospitality includes:
Tea, coffee and breakfast on arrival
Champagne prior to lunch
Three-course lunch with accompanying wines, followed by coffee
Complimentary bar throughout the day, (Inc champagne Grand Stand Package only).
Afternoon tea
Hostesses and event management in attendance throughout the day
Souvenir match programme and scorecard
Televisions within the facility
Official event documentation
PACKAGES AVAILABLE FROM ................... ONLY £295 PER PERSON PLUS VAT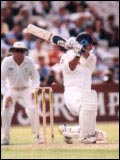 THE CAPTAIN'S LOUNGE
"Where captains of industry can meet captains of cricket"

Lord's is delighted to reveal details of a unique facility, which allows you to meet and greet your cricket heroes in the intimate surroundings of a new, elegant and exclusive restaurant. Hosted by the charismatic ex-England captain, Mike Gatting and his cricketing friends, guests can expect an unsurpassable day of entertainment and first class hospitality. It must surely be every cricket fan's dream to mingle with sporting legends. There is no more fitting company in which to celebrate some of the most prestigious matches of the year, than to spend the day with Mike Gatting, the last England skipper to win the Ashes.
THE CAPTAIN'S LOUNGE
Dine with celebrities in this beautifully modern restaurant, located in an unrivalled position at Lord's and situated just a short walk from your seat.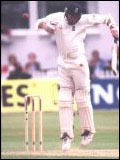 YOUR CAPTAIN'S LOUNGE EXPERIENCE INCLUDES:
An intimate and luxurious facility with private tables for 2, 4, 6 or 10 guests
Hosted by Mike Gatting who will be joined by other celebrities throughout the day
Souvenir gift
Reserved match seat in the Mound Stand
Reserved match seat in the Mound Stand
Luxury buffet breakfast on arrival
Champagne reception
Three-course a la carte lunch
Complimentary bar throughout the day, including fine wines and champagne
Traditional afternoon tea served buffet style
Souvenir match programme and signed souvenir gift.
Plasma televisions to keep guests informed of play throughout the day
Professional event team in attendance throughout the day
THE CAPTAIN'S LOUNGE
PACKAGES AVAILABLE FROM ................... ONLY £399 PER PERSON PLUS VAT
For details of all matches, dates and facility availability......................... e-mail: hospitality@sportsdays.co.uk
or click and fill out our on-line enquiry form.
If you would like to speak to someone please call our Enquiry Line between 11-00am and 5-00pm Mon - Fri
Click here to Sign up to our newsletter to join our newsletter to keep up to date of all packages and special offers
To make a booking enquiry please click on the corresponding image below or call: